KARDS – US Starter Pack, free now on Steam until Jan 21 at 18:00 UTC.
---
How to get the content:
Register on Steam or log in with already existing account and enter on KARDS – US Starter Pack store page. Click on Add to Account button to keep this content permanently. This content requires the base game KARDS – The WWII Card Game (which is free to play game) in order to play. This offer will expire Jan 21 at 18:00 UTC.
Or just click on following link: https://store.steampowered.com/app/1869350/KARDS__US_Starter_Pack
---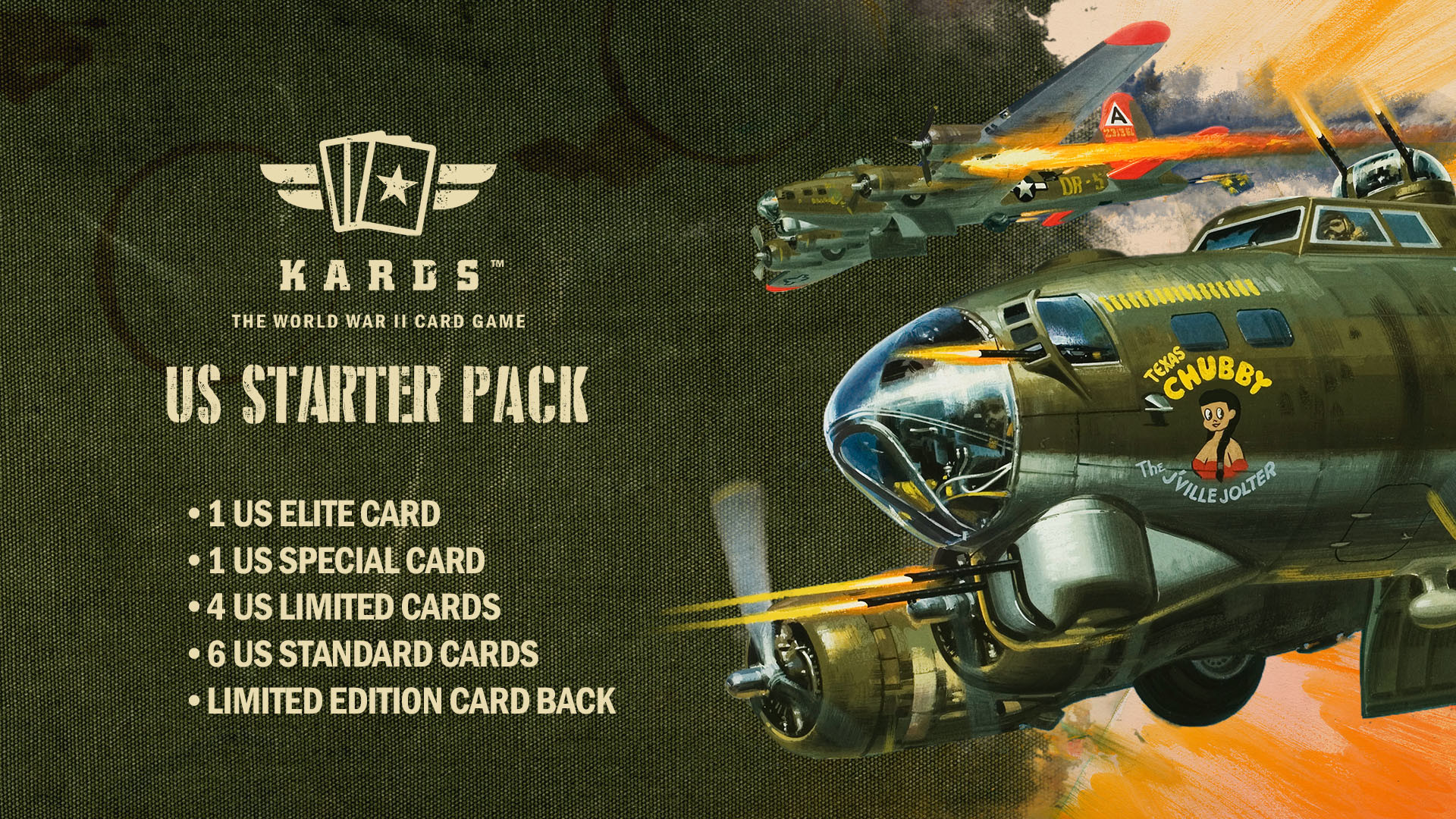 ---
About this content
The US Starter Pack contains everything you need to start expanding your own US collection and take a step upwards in your progression!
The US Starter Pack contains cards for you to storm the frontline and take control of the battlefield. The legendary 507th Parachute Infantry Regiment (PIR) builds up your other troops while the B-17 Flying Fortress defends you from the sky.
Full content of the US Starter Pack:
Card back – 507th PIR
Elite Card: 507th PIR
Special Card: B-17 Flying Fortress
Limited Card: 1st Marines
Limited Card: M7 Priest
Limited Card: War Bonds
Limited Card: We Can Do It!
2 Standard Cards: 5th Infantry
2 Standard Cards: 7th Regiment
2 Standard Cards: Stars & Stripes
507th PIR Card back
Customize your presence on the battlefield with this unique Steam card back, created specifically for the US Starter Pack and the only way to receive it.
Elite: 507th PIR
The 507th PIR is an elite card that comes into play with smokescreen and cannot be targeted by other units. Each turn, they give a random friendly infantry unit +2 attack. This can bolster your attacking presence and force your opponent into more defensive tactics.
B-17 Flying Fortress
The B-17 Flying Fortress is a powerhouse in its own right, delivering destruction from afar while relying on protection from your forces up close.
10 Standard and Limited cards
The standard and limited cards included in this pack are the support units and orders you need to make your presence felt. These cards can be used to upgrade your US Starter deck, you receive for free during the tutorials
This pack can only be purchased once per account.