Minion Masters – Scrat Infestation, free now on Steam until Jun 10 at 16:00 UTC.
---
How to get the content:
Register on Steam or log in with already existing account and enter on Minion Masters – Scrat Infestation store page. Click on Add to Account button to keep this content permanently. This content requires the base game Minion Masters (which is free to play game) in order to play. This offer will expire Jun 10 at 16:00 UTC.
Or just click on following link: https://store.steampowered.com/app/1645360/Minion_Masters__Scrat_Infestation
---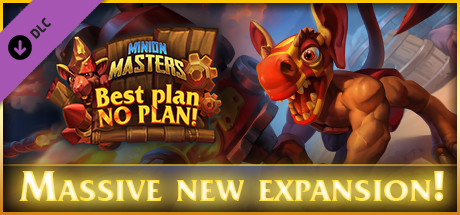 ---
About this content
Scrat Infestation is the Faction Box for starting or expanding your Scrat faction collection. This is a great +300% value bundle of Scrat cards, including the luckiest Scrat alive Jolo the Hero Scrat (Legendary!), and gets a head-start in this month's Season Pass!
Includes:
3x Jolo the Hero Scrat (Legendary)
5x Boom Buggy (Supreme)
20x Scratillery
40x Scrat Horde
40x Propeller Scrats
5x Power Tokens (Get 5 extra random surprises)
3x Season Pass Tiers
The industrious and ruthless Scrat uses sheer numbers to overwhelm their enemies. And if that wasn't enough, they back up their formidable frontline with machines of death that can rain death (and more Scrats) from the skies. Use Scrat Horde and Propeller Scrats to protect and power up your Boom Buggy that can devastate the enemy defenses, and use Scratillery so wage some more carnage and bolster your forces at the same time. Jolo, being the lucky Scrat that he is, can dodge enemy fire to protect your army. Sometimes.
With this Faction Box, you have the perfect kit to become a Scrat commander!