Save on thousands of great games, nominate your favorite games, earn new badge plus new items in the Points Shop
The Steam Autumn Sale is live now! With discounts of thousands of titles, save now through Black Friday and Cyber Monday, ending at 10am Pacific on Tuesday, December 1st.

The Steam Awards
The fifth annual Steam Awards nominations are open. Vote for your favorite games across 10 categories, and earn new badge and profile XP. The votes will determine finalists for each category. In December In December, you can vote on the winners for each category during the Steam Winter Sale.

Steam Awards Nomination Committee Badge
Earn a shiny new badge and XP by voting on The Steam Awards. Complete at least 1 task to earn the badge. Each task level up the badge.

There are total of 4 tasks to earn highest badge level.
Nominate at least 1 game
Nominate a game in each category
Play a game you've nominated
Review (or update your review) for a game you've nominated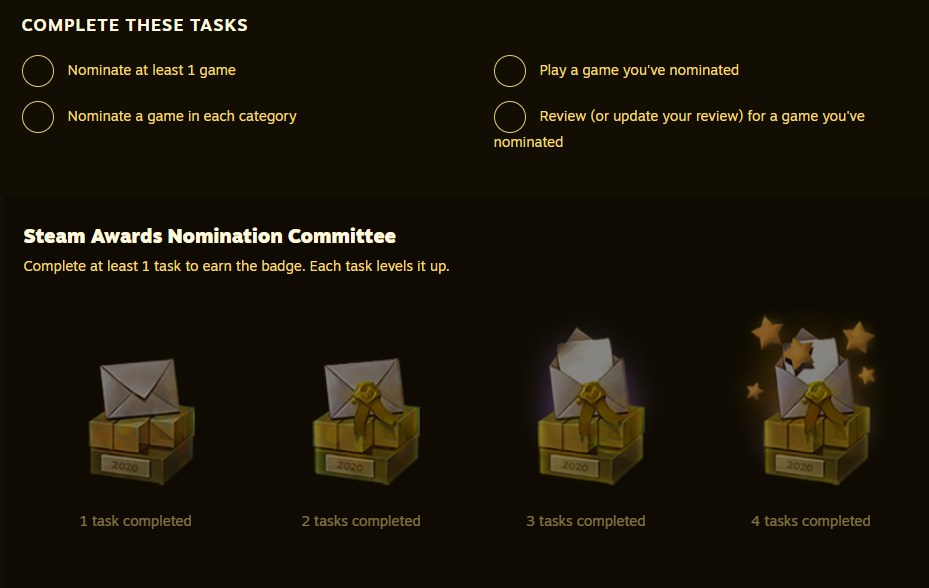 The Autumn collection
New items in The Points Shop are available now. Profile background, mini background, avatar frames and seasonal Autumn profile.

I handpicked couple of games with greatest discounts and historical low prices
The sale is live from November 25. to December 1. 2020 @10 AM Pacific Time
Check it all out at: https://store.steampowered.com/